Largs Bay School.
Responsive Website Design / Videography / Photography / Interactive Forms / UX-UI Design
Embracing Creativity and Community Spirit.
Largs Bay School, a vibrant educational institution near the beach, embarked on a time-sensitive journey to revamp its online presence. Facing a three-week deadline, the school sought our expertise to conduct a professional photoshoot, restructure the website layout, and create an engaging platform that reflects the school's commitment to excellence. Our school website design company collaborated closely with Largs Bay School to ensure the project's success while meeting Department guidelines.
The redesign of Largs Bay School's website presented several challenges that required careful planning and execution within a limited timeframe
Deadline Pressure and Photoshoot:
With only three weeks available, there was a need to conduct a comprehensive photoshoot and video shoot to capture the essence of the school and its picturesque coastal surroundings. The photo shoot had to be efficiently organized to showcase the school's unique environment and vibrant community spirit.
Restructuring Website Layout:
The existing website layout needed a significant overhaul to improve navigation and make information more accessible. A restructuring was necessary to ensure a seamless user experience for students, parents, and staff.
Showcasing Beach Proximity:
Being located near the beach was a prominent feature of Largs Bay School. To emphasize this aspect, the website required engaging drone footage and captivating imagery that showcased the school's proximity to the coastal area.
Department Guidelines:
The website redesign had to adhere to the Department's guidelines and regulations, ensuring compliance while creating an engaging and user-friendly experience for visitors.
Largs Bay School

To challenge and encourage.
every child to discover their potential through purposeful teaching
The
Solution.
Our school website design team collaborated closely with Largs Bay School to develop a tailored solution that met their unique requirements and addressed the challenges.
Efficient Photoshoot and Website Development: To meet the tight deadline, our team coordinated a well-organized photoshoot, capturing captivating images that authentically and vibrantly showcased the school's facilities, students, and staff authentically and vibrantly. Simultaneously, we commenced the website development process to ensure seamless integration of the visuals. We highlighted the beautiful and vibrant murals using photos and drone footage.
Restructured Website Layout: We restructured the website layout, ensuring an intuitive navigation system that made important information easily accessible. The new layout incorporated clear sections for parents, students, and staff, allowing for a personalized user experience and efficient information retrieval.
Showcasing Beach Proximity: We integrated stunning drone footage on the homepage hero video and imagery throughout the website to highlight Largs Bay School's beachside location. These visuals immersed visitors in the coastal beauty surrounding the school, instilling a sense of pride and community connection.
OSHC Emphasis: We dedicated a prominent section on the website to emphasize the Out of School Hours Care (OSHC) program. This section highlighted the program's benefits, activities, and registration details, ensuring parents could easily access important information.
School Calendar: We built a comprehensive and interactive school calendar, showcasing essential dates such as school events, holidays, parent-teacher meetings, and extracurricular activities. This feature facilitated effective communication and ensured parents, students, and staff stayed informed about upcoming events.
Acknowledgment of Country: We included an Acknowledgment of Country section on the website in line with cultural awareness and respect. This showcased Largs Bay School's commitment to fostering inclusivity, recognizing the land's traditional custodians, and promoting reconciliation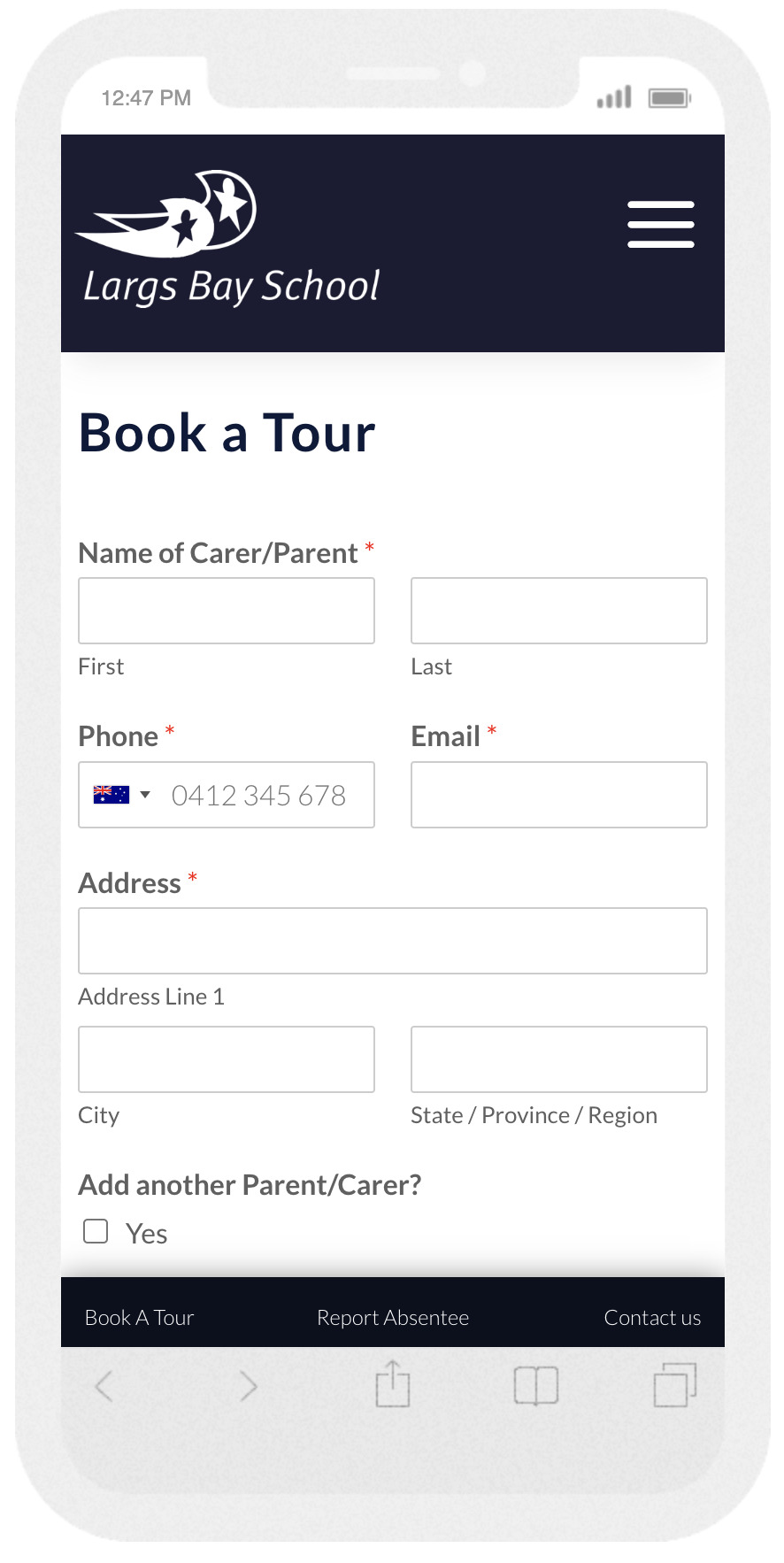 The collaborative efforts between our school website design company and Largs Bay School produced remarkable outcomes, transforming the school's online presence and enhancing community engagement:
Time-Efficient Delivery: Despite the tight deadline, we completed the comprehensive photoshoot and developed a fully functional website meeting all the required objectives.
User-Friendly Navigation: The restructured website layout improved navigation, making it easier for users.
Feedback from the community has been great, and we continue to support Largs Bay School with updates. The school is on our 3-year plan, which entitles them to unlimited updates using our client panel.
We engaged Michael, Raul and the team from EWS early Term One knowing our website was not functional. We were immediately comforted by the confidence and creativity of the team at EWS.
Within weeks we had the team on site and the photoshoot happening.
The new website is incredibly impactful, and we are very confident in recommending the EWS team to other schools