St Agnes School.
Responsive Website Design / Revamp / Videography / Photography / UX-UI Design
Embracing Innovation and Immersion: St Agnes School Website Revamp.
St Agnes School, a progressive educational institution, embarked on a website revamp project to enhance its online presence and provide an immersive experience for visitors. As the school's longstanding website design partner, we collaborated closely to address the challenges and create a visually appealing platform meeting Education Department guidelines. With minimal client input, we aimed to deliver a website that exuded a nature-inspired look and feel while incorporating an interactive online school tour.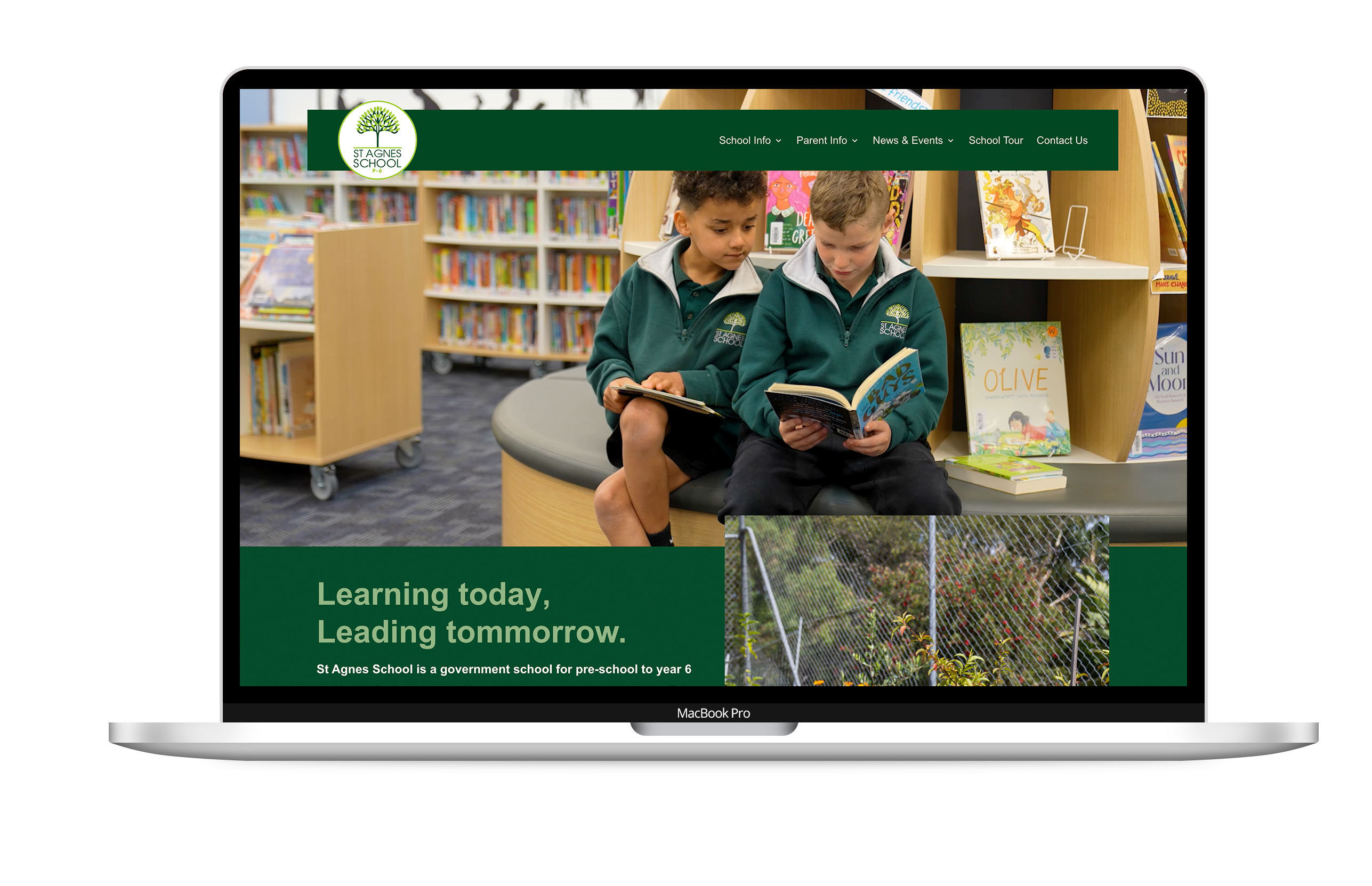 The revamp of St Agnes School's website posed unique challenges that required a balance between enhancing the existing design and meeting Department guidelines: 
Revamping an Already Good Website:
The task was to elevate the existing website's design, which was already considered good. The challenge was to enhance it further, ensuring that the revamped version provided an upgraded user experience.
Meeting Department Guidelines:
The website redesign had to comply with the Education Department's guidelines and regulations while incorporating innovative features and maintaining an interactive nature-inspired design.
Limited Client Input:
With minimal client involvement, our team needed to make informed decisions aligned with the school's goals and values, ensuring the final product exceeded expectations.
Interactive Online School Tour:
The client's vision included an interactive online school tour that provided a comprehensive experience for prospective students and parents, allowing them to explore different areas of the school virtually.
St Agnes School

Learning today, Leading tomorrow.
For our students to be successful and confident learners .
The
Solution.
Leveraging our expertise and understanding of St Agnes School's values, we devised a comprehensive solution that addressed the challenges and exceeded expectations.
Free Website Revamp:
As part of our three-year plans for clients, we offer free website revamps to Schools, ensuring cost-effectiveness and long-term support. This also ensures our client websites (our work) are always up to date and of a high standard.
Interactive Online School Tour: To provide an immersive experience, we developed an interactive online school tour. Using an aerial image of the school captured by a drone, visitors could explore various areas of the school by clicking on hotspots. Each hotspot plays videos of students introducing and showcasing different locations, subjects and facilities, offering an engaging and personalized virtual tour.
Nature Look and Feel: Incorporating the client's desire for a nature-inspired design, we utilized earthy colour palettes, natural textures, and imagery that reflected the beauty of the surrounding environment. This approach created a warm, inviting ambience that resonated with the school's values and aesthetics.
Department Guidelines Compliance: While infusing innovation and creativity, we strictly adhered to Department guidelines to maintain compliance throughout the website revamp process. This included accessibility features, data privacy considerations, and user-friendly navigation.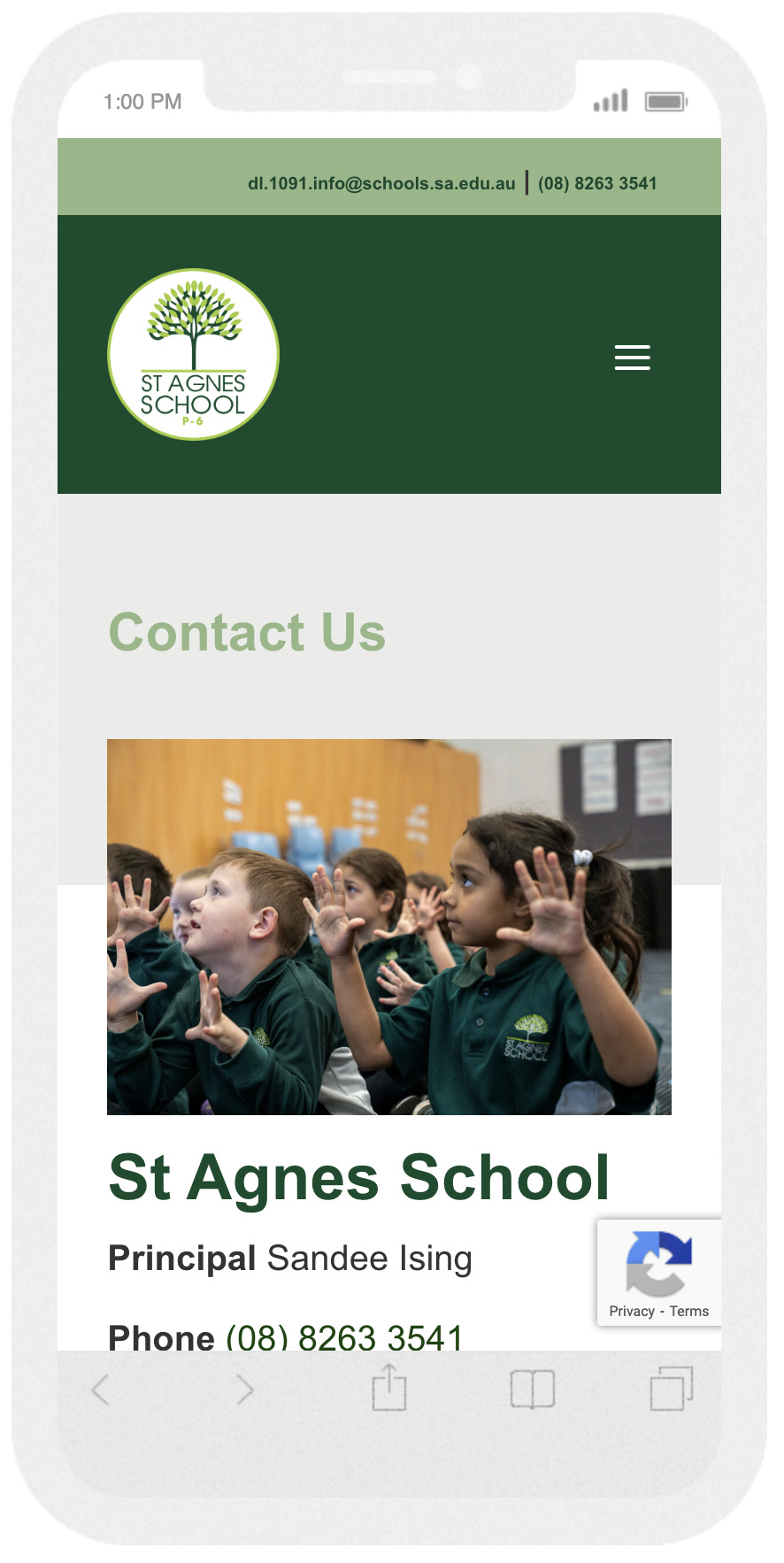 The revamp of St Agnes School's website successfully breathed new life into its online presence, delivering a nature-inspired design and an immersive online school tour. By blending creativity with adherence to Department guidelines, the revamped website surpassed expectations, providing a delightful user experience and showcasing the school's commitment to innovation and excellence.
The EWS Team are incredibly responsive to all of our suggestions.
They have worked with us to create a product that not only informs our community but makes the viewer smile