FAQs
Frequently Asked Questions
Why should my school/preschool go with EWS?
Education Web Solutions (EWS) are an Adelaide based website and design studio that was started by two people that previously worked with the School Website Team at the Department for Education (DfE and formally known as DECD). Over the past 4+ years, EWS have developed over 200 school websites in South Australia and have done everything from the website design, photography, videos, virtual tours, logo redesign and much more. To learn more, visit our School Plans page.
Tell me more about the Hosting Fees?
All our websites are hosted in Australia – this is why our hosting prices may be higher than some that you find online.
Our commitment to host in Australia means that:
Your website and emails will connect faster (as your viewers will predomniently be in Australia too)
Hosting in Australia is much more safer with improved cyber-security
You will be supported by Australians (and you will also support us back)
You can feel peace of mind knowning that your websites will be backed-up regularly (both at a website and server level), and should you have any issues you can contact us and receive support from within Australia.
What are your Hosting Tier levels?
Your website files are located on a web server, similarly to a house being located on a piece of land.
The 'Tiers' reflect the size of your website, so a higher tier means your website will take up more space on the server.
| | | |
| --- | --- | --- |
| Level | Server space | Cost (excl.) |
| Tier 1 | 0-100MB | $190 |
| Tier 2 | 100-300MB | $240 |
| Tier 3 | 300-500MB | $290 |
| Tier 4 | 500MB – 1GB | $395 |
| Tier 5 | 1GB – 3GB | $560 |
When quoting your website, we usually predict the size and anticipate what Tier your website will fall under.
Other schools have great photos, where do we go for that?
EWS have our very own photography and videography team. We've supported many schools with photoshoots and have even travelled all the way to Port Lincoln and Roxby Downs to support the rural schools in those areas. If you would like any photos or have questions about a video/virtual tour – please contact the team.
Whats new?
Check our latest blogs for new website features and functions to better connect with your community.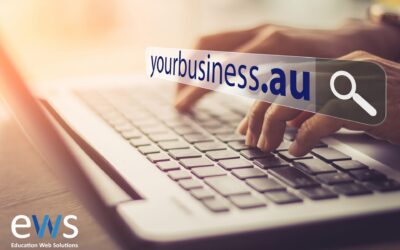 What is a .au domain? The .au domain name is now available to businesses in Australia. Most know about the familiar domain names that end in .com or .com.au if you are in Australia. There's also .net, .net.au, or .org if you are an Organisation. Usually, businesses in...
read more