Melbourne Schools Website Design & Development Plans
Any enrolment size, Any goal. Any budget. One outcome.
Whats included?
Our all-inclusive plans are designed to give Melbourne and Victorian schools everything they need to succeed online without any upfront costs. Our plans include all the features you need to create and run a website representing your school, including design, development, hosting, security, and ongoing maintenance.
education web solutions

Putting schools first.
Any enrolment size, any goal, any budget. One outcome
A Smart Investment for your Melbourne School's Online Presence.
At EWS, we believe in long-term partnerships with schools, which is why we offer 3-year website contracts that provide numerous benefits. We understand the unique challenges schools face in budgeting, planning, and maintaining an up-to-date online presence. Our website contracts aim to alleviate those concerns while delivering exceptional value and service. Let us explain why our contracts are the right choice for your school.
No Upfront Cost for Website Setup
We recognize that schools have limited budgets and financial resources. That's why we offer a no upfront cost structure for website setup. You can launch a professional, tailored website without the burden of an initial investment. This allows you to allocate your funds more efficiently, directing them towards other critical areas of your school's operations.
Consistent Budgeting
With our 3-year website contracts, you can enjoy consistent budgeting year after year. The contract terms outline fixed monthly or annual payments, making planning and allocating funds for your website needs easier. With no unexpected costs or surprises along the way, just a predictable and manageable budget that aligns with your school's financial planning.
New Website at the End of the Contract: Technology constantly evolves, and your school's website should reflect the latest advancements and design trends. At the end of the contract period, we offer you the opportunity to refresh and renew your website with a brand-new design. This ensures that your online presence remains fresh, engaging, and aligned with the evolving needs of your students, parents, and community.
Seamless Transition and Dedicated Support
When you enter into a website contract with us, we prioritize providing you with a seamless transition process. Our dedicated team will guide you through every step, from initial setup to ongoing maintenance and support. We understand that schools have unique requirements, and we are committed to delivering personalized solutions and exceptional customer service throughout the duration of the contract.
What's
included.
In our
all-inclusive plan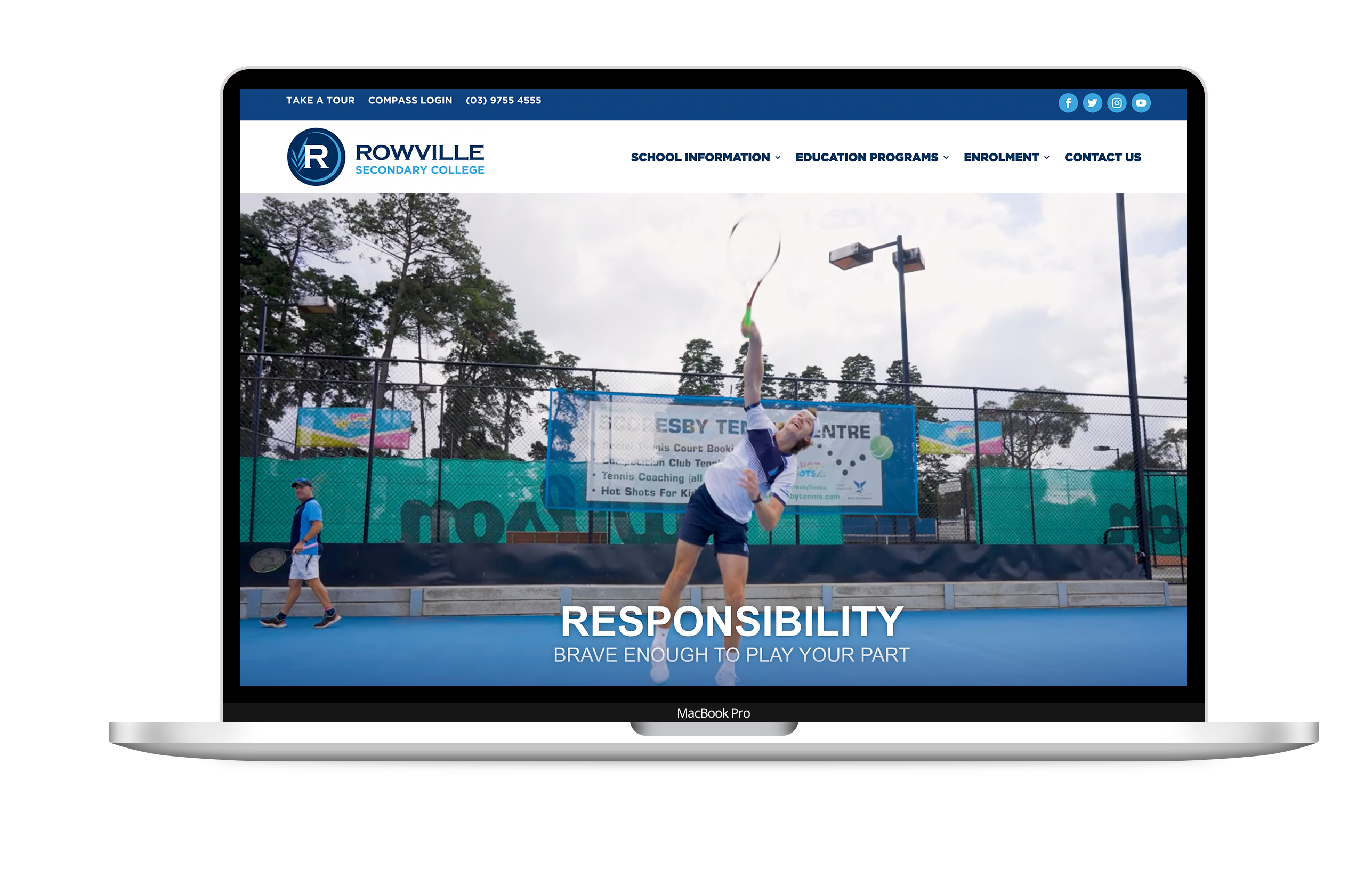 See our examples
Rowville Secondary College.
Responsive Website Design / Videography / Photography / UX-UI Design
Rowville Secondary College, a prominent multi-campus high school, sought to revamp its online presence to serve its diverse community better and showcase its commitment to academic excellence.
Slide
Showcase your school's story with amazing media.
If a picture is worth a thousand words, then a video is worth a million.

Whether through captivating photographs, breathtaking aerial views, or engaging videos, our media team aims to elevate your school website to new heights. We work closely with your staff and students to ensure our content aligns with your school's values and vision.

Contact us today and start telling your school's story in a visually compelling way - leaving a lasting impression on all your website visitors.



Our professional photographers have a keen eye for capturing the essence and values of your school
Promotional videos that highlight your school's values, vision, facilities, and achievements

Take your school website to new heights with breathtaking aerial photography and videography