Rowville Secondary College.
Responsive Website Design / Videography / Photography / UX-UI Design
Four Learning Areas,
Two Campuses.
One solution.
Rowville Secondary College, a prominent multi-campus high school, sought to revamp its online presence to serve its diverse community better and showcase its commitment to academic excellence. The school partnered with our leading school website design company to create a dynamic and user-friendly website. The project aimed to provide students, parents, and staff with easy access to important information, streamline communication, and foster a sense of community within the school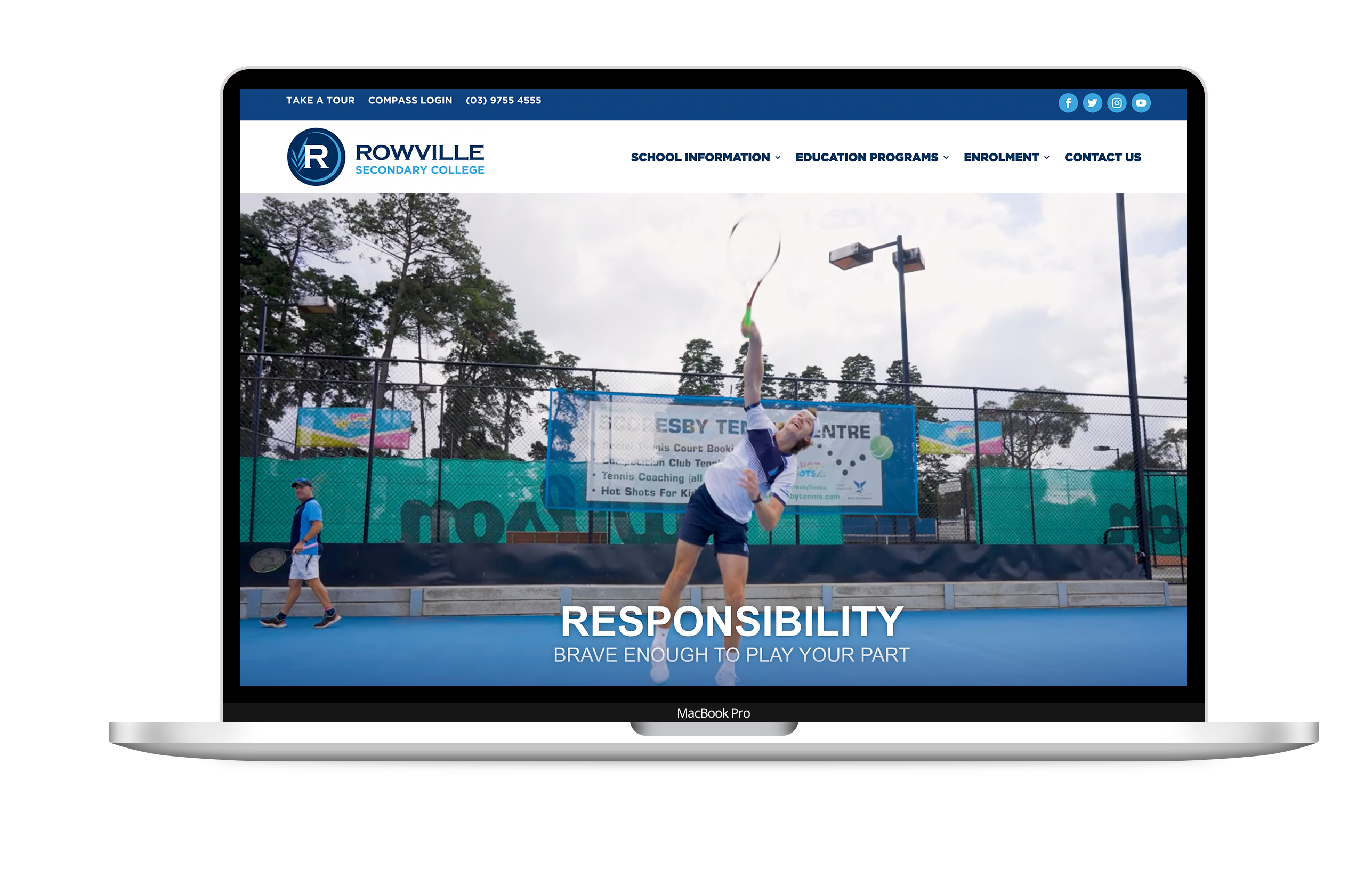 Rowville Secondary College faced several challenges with its previous website. The existing design needed a cohesive structure, making navigating and finding relevant information easier for users. Furthermore, the absence of a synchronized calendar and news blogs hindered effective communication between the school and its community. The school also needed a visually appealing platform to highlight its achievements, showcase photos and videos, and cater to the diverse areas of academic focus
Rowville Secondary College

One Great School.
Nurturing strengths to grow curious and powerful learners

The
Solution.
Our school website design team collaborated closely with Rowville Secondary College to understand their unique requirements and goals. Together, we developed a comprehensive solution that addressed their challenges and provided an enhanced user experience.
Modern and Clean Design: We created a contemporary and clean design for the website, employing a visually appealing layout that showcases the school's new brand identity. The design incorporated an intuitive navigation system, enabling users to find the desired information quickly. The use of vibrant blues and engaging imagery, and videography created an inviting and positive online environment.
Enhanced Communication: The synchronized calendar and news blogs have streamlined communication between the college, students, parents, and staff, keeping them well-informed about important events and updates.
Community Engagement: The website's multimedia showcase and customized academy sections foster a sense of pride and engagement within the school community by highlighting the achievements and offerings of different academic disciplines
Positive Brand Image: The website's visually appealing design and professional presentation have enhanced the school's brand image, reinforcing its commitment to academic excellence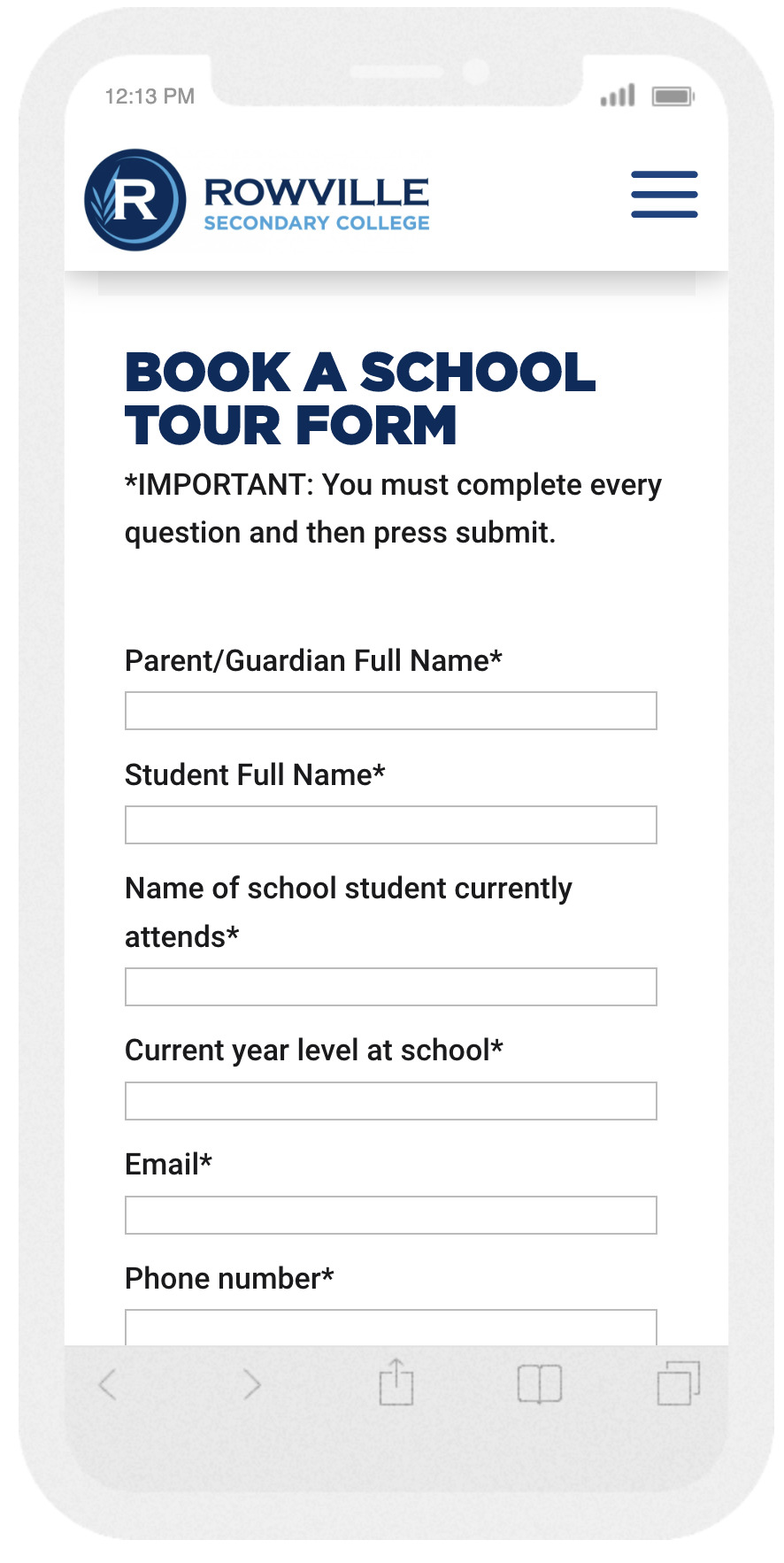 Through a collaborative effort with Rowville Secondary College, our design team successfully created a modern and user-friendly website that catered to the unique needs of the school and assisted in showcasing the new brand.
The finished site is beyond what we could have imagined and has completely taken our secondary school to a whole new level, and we are now a clear leader in the digital space compared to other Melbourne schools.
The high quality, modern website design, and impressive video content engages and highlights all aspects of our school and our unique programs. The site right from the get-go grabs the attention of visitors and makes them 'feel' like they are already at RSC.
The professionalism, hard work and dedication, plus the ease of working with the EWS team made the whole project stress-free and enjoyable. Nothing was too hard, from the website photo shoot to the design process, EWS listened to our requirements and offered great advice in areas we could improve.
It was evident they understood how schools operated and the best way to capture our audience and provide a user-friendly and unforgettable experience to make RSC stand out as a school of choice. Thank you!